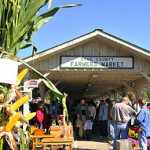 Nestled in the heart of downtown West Jefferson convenient to local dining and shopping, our market brings together everything great about Ashe County. We feature fresh seasonal produce grown locally, complemented by juried crafts handmade by Ashe County artisans.
We offer a delightful mix of fresh vegetables and fruits, local honey, molasses, maple syrup, meats, homemade jams and jellies.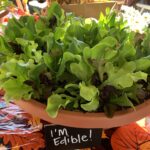 Eating more greens?  We keep it fresh with an assortment of pre-washed and responsibly grown spinach, collards, arugula, multiple varieties of kale and lettuce and everything in between. Our greenhouse growers extend the season with offerings all summer long and into the fall and are on site to answer questions about growing practices, storage and preparation.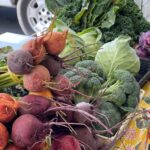 Our specialty produce will satisfy the gourmet in you and fill your plates with color! We have organic and non-organic garlics, pimento peppers, shiitake mushrooms and all the colors of the rainbow represented with multi-colored beets, carrots, cauliflower and potatoes.   And in the fall, shop our wide variety of pumpkins and gourds!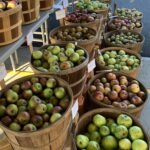 Taste the fruits of our labor!  Seasonal fruits that include many varieties of local heirloom apples, grapes, blueberries, blackberries and raspberries and strawberries.  Buy them fresh for eating now or for freezing for the winter months.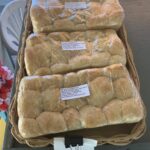 Who can resist freshly baked home made bread? Our fresh baked offerings include Amish breads, sourdough bread, an assortment of pies and gourmet cakes. Cinnamon bread, strawberry/rhubarb pies and sugar-free fried pies are market favorites!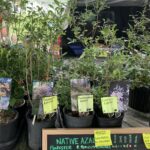 Before planting visit our market for your plant starts, shrubs, ornamentals, trees and perennial and annual flowers.  Our nursery growers offer an abundant of ready-to-plant varieties.  We have tomato plants, vegetable plants, common and hard to find herbs, heirloom apple trees and native plants, along with plenty of advice on how to grow them.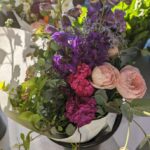 Need fresh cut flowers?  We have those, too!  Our growers specialize in dahlias, sunflowers and zinnias, along with day lilies and a variety of perennials and annuals ready to brighten your garden and home.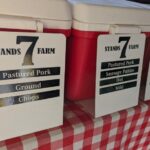 Looking for a perfect cut of meat for your dinner table?  You'll find local all natural beef, turkey, chicken, pork, yak and lamb in a variety of cuts and sizes.  Some vendors take pre-orders on specialty cuts and sizes.  Did we mention local eggs from free-range chickens?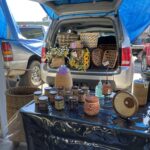 Our featured artisans hand craft pottery, woven baskets, knitted and crocheted items, quilts, leather, paper, jewelry, flower art, and soy candles, along with organic and vegan soaps and body products as well as a new line of CBD products.  Fine wood crafts are prominent and include everything from skillfully crafted cutting boards to fine furniture.  Ever seen a tasting spoon?  We have those along with bird houses, corn hole games and decorative wood crafts for your home and yard.  Looking for that perfect framed item.  Check out the beautiful pressed flowers.
Come and join us in our happy place.
We are the Ashe County Farmers Market.  Always fresh. Always local.